CHAT WITH AN ADVENTURE EXPERT, EMAIL, AND CONNECT
CONTACT BACKPACKER TOURS
Live Chat with an Adventure Expert
---
If you can't make it to The Backpacker in person, you can chat with one of our adventure experts who can answer your questions about resorts, packages, transportation or snow gear and apparel!
Avail Mon-Fri 10am-7pm
Saturday 9am-6pm
Sun 12-5pm
The Backpacker CEO, Michael Mathews and Backpacker Tours Director, Caroline Beslin
---
Phone:
Backpacker Tours (Direct Line) 1 (800) 414-ISKI
The Backpacker Baton Rouge (225) 925-2667
The Backpacker Lafayette (337) 406-8754
Fax:
(225) 924-7274
Text us:
(225) 240-8180
Address:
The Backpacker
7656 Jefferson Hwy
Baton Rouge, LA 70809
The Backpacker
1916 Kaliste Saloom Rd
Lafayette, LA 70508
Email:
Tours@backpackeroutdoors.com
Want to work with Backpacker Tours? We're Hiring!
Join our team in Lafayette: Backpacker Tours Ski Trip Sales Lead
Apply on indeed today!
Did we do it right?
We want to hear from you! Contact us and let us know how we're doing?
TIME LEFT FOR EARLY BOOKING BONUS
*$50 Backpacker Gift Card per traveler!
---
Connect with Backpacker Tours
Thanks! We'll be in touch.
This field is required
This field is required
This field is required
Adventures Done Right Start With A Great Checklist
The Ultimate Ski Adventure Checklist

Our Backpacker Tours Ski Leads have created the Ultimate Ski Adventure Checklist to make packing for your on-mountain adventure stress free. Even better, from the moment you book your trip with Backpacker Tours, you'll enjoy exclusive savings on your favorite ski gear! Want help choosing your gear? Just ask through our Expert Live Chat or when you request your skier's checklist below!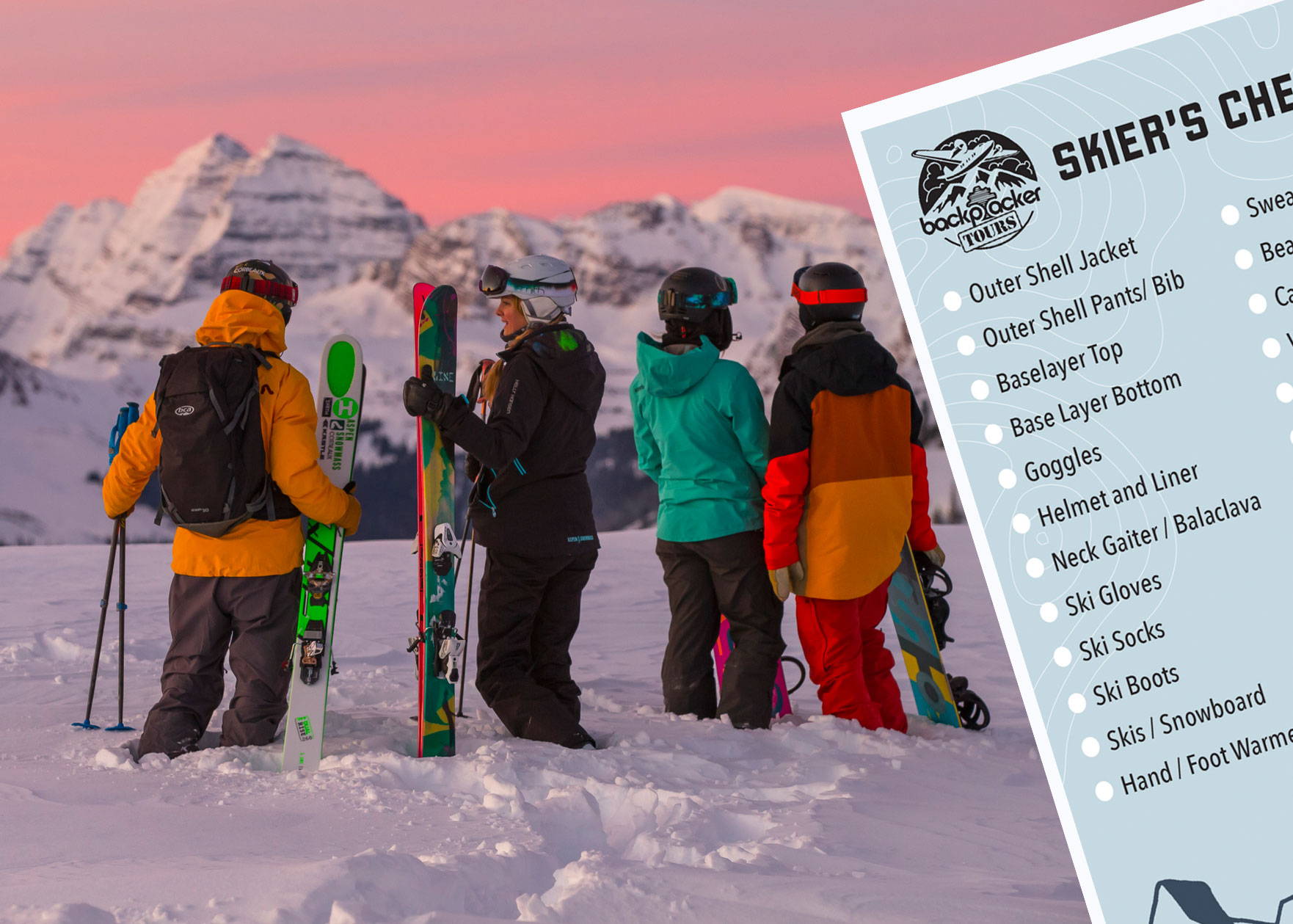 ---
Backpacker Tours will take the time to listen to your specific needs and tailor a package that includes everything you need from getting the right gear from our expert retail team to getting you and your family safely home from your adventure of a lifetime!