DISCOVER MARDI GRAS CHARTER FLIGHTS, PRICE MATCH GUARANTEE, AND ON SITE SUPPORT
ABOUT BACKPACKER TOURS
Backpacker Tours will take the time to listen to your specific needs and tailor a package that includes everything you need from getting the right gear from our expert retail team to getting you and your family safely home from your adventure of a lifetime!
Backpacker Tours is
Adventure Done Right!

---
---
The Backpacker is proud to offer our exclusive Backpacker Tours Private Mardi Gras charter flights to Steamboat Springs and Aspen/Snowmass, alongside our many other air and ground transportation options.
---
The relationships we've built from almost 50 years of travelling to the Colorado Rockies and beyond gives us preferred access to resort properties otherwise off-limits.  
---
Beginning in 2018, Backpacker Tours travelers accrue Vertical Days for every day of lift tickets purchased! In as few as 10 days on the mountain, you can earn exclusive Backpacker Tours gear!  
"Another great trip to Steamboat Springs with Backpacker Tours. The "sneaux" was fantastic, which made the skiing awesome. We love the ease of the charter flight direct from baton Rouge, along with our lovely property at Trailhead Lodge equipped with game room and hot tubs. Our boys thoroughly enjoy the large Steamboat mountain. Thanks Backpacker Tours for all the organization and details to make the trip smooth and easy for a great family vacation."
Darryl, Robin, Dylan, & Dalton Rouselle
Steamboat 2016
"We loved our Backpacker ski trip, the accommodations were great and they took care of everything!
We had some non-skiers in our group as well, and they enjoyed all of the attractions in beautiful Steamboat. We did a snow shoe hike, visited the natural hot springs, and enjoyed exploring the quaint town. Everyone in Steamboat was extremely friendly, from the shuttle driver to the ski staff."
Laura & Cullen Doody
Steamboat 2016
"Take the stress out of planning your vacation! Backpacker Tours takes care of flights, accommodations, lift tickets, transportation...all you do is pick your location! One of the best and most fun ski trips I've taken in years. Highly recommend using Backpacker Tours for your next trip!
Denise Chiasson
Snowmass 2016
---
TIME LEFT FOR EARLY BOOKING BONUS
*$50 Backpacker Gift Card per traveler!
---
Connect with Backpacker Tours
Email:
Tours@backpackeroutdoors.com
Want to work for Backpacker Tours?
We're hiring for our Lafayette Backpacker Tours Ski Trip Sales lead!
Apply on Indeed Today!
Thanks! We'll be in touch.
This field is required
This field is required
This field is required
Adventures Done Right Start With A Great Checklist
The Ultimate Ski Adventure Checklist

Our Backpacker Tours Ski Leads have created the Ultimate Ski Adventure Checklist to make packing for your on-mountain adventure stress free. Even better, from the moment you book your trip with Backpacker Tours, you'll enjoy exclusive savings on your favorite ski gear!  Want help choosing your gear? Just ask through our Expert Live Chat or when you request your skier's checklist below!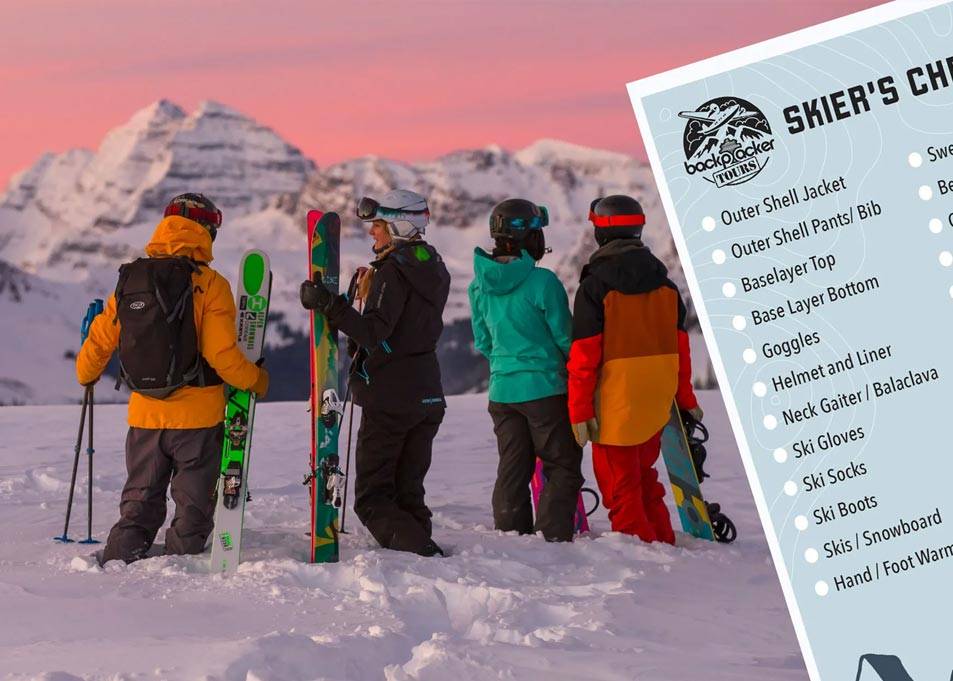 ---